Donate!
We ask you, humbly, to help.
We know that 98% of our readers will not support us; they simply look the other way. That is OK as idea of BizApps Wiki is to free share a knowledge about implementation and usage of Business Applications, but you should know that we have costs as well. We minimum need to provide the right infrastructure for the web site as well as to improve quality and develop some new features.
| | |
| --- | --- |
| | This page in a nutshell: If everyone who reads BizApps Wiki gave just a little, we could keep BizApps Wiki thriving for years to come. The price of a cup of coffee is all we ask. |
We know that most people will ignore this message. But if BizApps Wiki is useful to you, please consider making a donation of €5, €10, €20 (or $5, $10, $20) or whatever you can to support BizApps Wiki.
Thanks in advance, Tounca, Inc., BizApps Wiki
Make a donation
PayPal donations

To donate by PayPal please click on a PayPal image or select this link. (Please note that due to in-country regulations, we cannot process PayPal donations from Singapore.) On the selected page, please choose 'Send' and enter any amount of money you would like to donate. Thanks in advance. Our gratitude does not depend on the amount you donate.
Bank transfer donations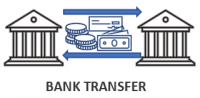 We accept a range of currencies, and Evolve Bank will convert your currency into USD.
Domestic transfer details
Use these details to send both wire and ACH transfers to Tounca LLC (BizApps Wiki):
Bank name: Evolve Bank & Trust
ABA Routing Number: 084106768
Bank Address: 6070 Poplar Ave, Suite 200, Memphis, TN 38119
Beneficiary Name: Tounca LLC
Account Number: 9800591784
Type of Account: Checking
Beneficiary Address: 8 The Green, Suite A, Dover, DE 19901
International wire via SWIFT
You'll be sending a wire via a correspondent bank, which then routes it to our account. Important! Don't forget to include the reference field.
Receiving Bank Details
SWIFT / BIC code: FRNAUS44XXX (Remove the trailing XXX if you are asked for an 8-digit code)
Bank Name: First National Bankers Bank
Bank Address: 7813 Office Park Blvd, Baton Rouge, LA, 70809, USA
Beneficiary
IBAN / Account number: 084106768
Beneficiary Name: Evolve Bank & Trust
Beneficiary Address: 6070 Poplar Ave, Suite 200, Memphis, TN 38119, USA
Reference field
Account 9800591784 for Tounca LLC at Evolve Bank & Trust

Please note we cannot automatically confirm the receipt of bank transfer donations, so please retain a confirmation of the transfer from your bank. We don't charge a transfer fee for donations, but your local bank may. We highly recommend checking with your bank before initiating a transfer to make sure you understand any charges that you may incur by making a donation to BizApps Wiki (powered by Tounca, Inc.).
More options
If you would like to donate and you would like to use some other option, please contact us with your idea so we can introduce additional models for donations.
Privacy
We do not sell or trade your information to anyone. By donating, you agree to share your personal information with the Tounca, Inc. as organization that hosts BizApps Wiki, and its service providers pursuant to our donor policy. Tounca, Inc.and its service providers are located in the United States and in other countries whose privacy laws may not be equivalent to your own. For more information please read our donor policy.